Meet Our Experienced
Nurse Practitioner
"I really enjoy seeing patients for annual physical exams—including well-woman and pap smears—and comprehensive health reviews, as well as sick visits. I also enjoy seeing patients for acute illnesses and to help manage chronic conditions. I have experience and passion for working with you to achieve your health goals . If you're working on a particular health goal, such as losing weight, smoking cessation, lowering your blood pressure, or managing your anxiety or depression, I'd be thrilled to work with you!"
The initial consultation is complimentary

Convenient, unrushed appointments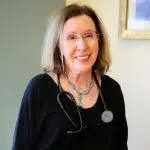 Jennifer Parker, Nurse Practitioner (NP), is the newest provider at Premier Medical Clinic. A Nurse Practitioner is specially trained to provide primary health care for patients of all ages, including children. She can diagnose and treat acute and chronic medical conditions, order diagnostic tests or procedures, perform procedures like suturing or skin biopsies, and prescribe medications.
A lifelong learner and healer, Jennifer earned her Master of Science in Nursing from Thomas Jefferson School of Nursing in Philadelphia and her undergraduate nursing degree from Princeton University in New Jersey.  Her hands-on experience in healthcare is extensive and she is passionately concerned about her patient's wellness.
And just as important as her top-notch education and training, patients find that Jennifer has a big heart.  She's an empathetic provider with a commitment to excellence and a fundamental desire to help people achieve a high level of health and well-being, by shared decision making.